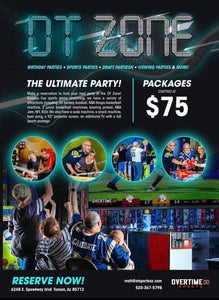 RESERVE YOUR NEXT PARTY
Are you ready for a private party at the OT Zone! From live sports streaming to games like air hockey, foosball, NBA Hoops basketball machine, 2 junior basketball machines, bowling pinball, NBA Jam, NFL Blitz, and more, we've got all the fun in one place. We offer a soda machine, a snack machine, a beer pong table (BYOB approved), a 92" projector screen, an additional TV with a full sports package, and 2 charging stations for your cell phones.
By completing your reservation, you confirm and agree to our terms and conditions: WE REQUIRE 72 HOURS NOTICE TO RESERVE A PARTY.
If you need to cancel your reservation, you must notify us at least 72 hours prior to the reserved start time. If you do not give 72 hours' notice, you will be responsible for the full balance due. You may reserve a party any time Monday through Sunday between the hours of 10 AM and 12 AM.
The cost of the party includes: 
Full use of the OT Zone facilities
Plates, silverware, and napkins
Use of a refrigerator and freezer
Tables and chairs
***Unlimited use of games available for an additional fee***
All children four years of age and under are free :)
Trading sports cards with someone you don't know can be risky. We have the perfect solution for you. Here at Overtime Sports, we've been a sports collectible store for over 5 years, selling and shipping items across the United States.
Our goal is to take the risk out of online trading. For $5, we will verify the trade for you and ship it to the final destination. 
To initiate your personal trade, please fill out the form below. Be sure to include all of the information requested for both parties and Overtime Sports will initiate service within 24-48 hours.
Trading